Alitura At-Home Facial Kit
Enjoy professional grade results without having to step foot in the spa. Luxuriate in the experience of our meticulously sourced and award-winning formulations while you save hundreds on spa visits — 15 full facial treatments per kit!
Save $41 with this bundle!

01

The Alitura Clay Mask - 7.1oz bottle

02

The Alitura Gold Serum - 50ml bottle

03

The Alitura Pearl Cleanser - 100ml bottle

04

Alitura Derma Roller
The Alitura Clay Mask
A detoxifying clay that produces porcelain-smooth skin with a radiant glow. Contains a blend of nine nutrient-dense ingredients.
Key ingredients
Freshwater Pearl Powder, Grass-fed Colostrum, Rhassoul Clay.
Key Benefits
Detoxify, purify and hydrate your skin for a more youthful appearance.
Proof
"My face feels tighter and the wrinkle lines on my neck have been plumped out magically."

Jane Verified Buyer
The Alitura Gold Serum
This high-performance serum works beautifully alone or in conjunction with all offerings in the Alitura product family, preserving the skin's authentic beauty and supporting a graceful aging experience.
Key ingredients
Organic Alfalfa-derived Vitamin A, GHK-Cu, Astaxanthin, Marine Collagen, Co Q10.
Key Benefits
Regenerate, nourish, and transform your skin.
Proof
"I use the gold serum morning and night and I love it so much. I'm constantly glowing."

Jessica R. Verified Buyer
The Alitura Pearl Cleanser
The Pearl Cleanser was designed to calm irritation and remove excess dirt and oil while leaving your skin fresh, radiant and soft as silk.
Key ingredients
Water/Aqua, Kaolin Clay, Geranium Flower Water, Rose Flower Water, Olive Oil.
Key Benefits
Cleanse, renew, and protect your skin with the power of some of nature's most potent ingredients.
Proof
"Love the creamy, milky consistency. And I love the smell!"

Natalie C. Verified Buyer
The Alitura Derma Roller
The 600 Titanium Microneedle Alitura Derma Roller is the leading-edge tool for supple, flawless skin.
Key Benefits
Boost your collagen and elastin production for younger, flawless skin.
Proof
"They are a part of my skin care regimen - can't imagine a better way to rejuvenate - feel and see the difference."

Isabel J. Verified Buyer
Customer Reviews
Write a Review
Ask a Question
06/01/2021
Anonymous

US
Amazing Products
Have had a really fantastic overall experience. I truly think that the gold serum has changed my skin. I was still breaking out pretty consistently in my 30's which was frustrating. But after using the serum for the last month I am seeing very noticeable difference to my existing skin (less scaring, brighter and smoother complexion) and no new breakouts! I am actually blown away and very happy. I have since ordered the mask and will continue to switch all of my products over to Alitura as I need new ones.
02/26/2021
Anonymous

CA
Disappointed
Horrible. The products aren't moisturizing at all, the feel like they sit on top of the skin and don't soak in. In fact the more I used the moisturizer and the gold serum the dryer my skin became. The mask smells like a rotten puddle of mud and I couldn't bring myself to use it more than twice because I gagged as soon as I put it on my face. The cleanser just smeared my makeup around and I felt like I had to use a cleanser to remove the residue the cleanser left behind. I've never been more dissatisfied with a skincare line and I've tried everything from st. Ives to eminence. If I could give it a 0 star rating I would. Also the fact that I live in Canada and paid $400 for the skincare plus another $140 in shipping and duty fees I feel like I've been scammed. Do Not Buy this overpriced hype. I've lost respect and credibility for Dave aspery who advertises this skin care as the holy grail for skin, it makes me wonder what other scams he plugs into his podcast for the sake of money. I'm sorely disappointed!
02/05/2021
Anonymous

US
Skin feels amazing!
Love these products. I have been using the derma roller, serum, clay mask and cleanser for about six weeks. I received them as a gift and have now gifted them to someone else.
12/26/2020
Anonymous

CA
Excited to about Alitura!
This brand was brought to my attention via Ben Greenfield's content. I loved the Cologne that I bought previously, so I thought I'd give the Facial Kit a try. The only complaint I have, is that I ordered during the holiday season, so it took longer than I was hoping to receive my order. But aside from that I'm loving everything Alitura has to offer! :)
09/23/2020
Anonymous

US
Superior products
With a tight budget we have never spent a lot of money on our skin care but after years of struggling with my skin my husband heard about Alitura on a pod cast and decided to splurge and order it for us. After just a couple of weeks we noticed drastic changes and did everything we could to budget it in. We have told EVERYONE about it and now so many friends and family have fallen in love with it. I wear very little makeup now and get so many compliments on my skin. Thank you so much for putting out such amazing products. Can't wait for the scrub to come out!!!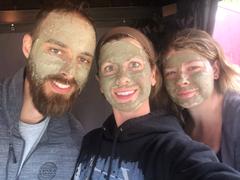 Alitura At-Home Facial Kit