The Alitura Perfect Pair
The name says it all. Your skincare regimen simplified in two key products. Exfoliate, cleanse and rejuvenate your skin with The Alitura Clay Mask. Follow that treatment by feeding your skin a carefully formulated nourishing blend of botanicals, super food extracts and beautifying essential oils. The Moisturizer is made with 95.4% organic ingredients and will give you a bright, radiating glow without the shine.
Save $9 with this bundle!

01

The Clay Mask - 7.1oz jar

02

The Moisturizer - 50ml bottle
The Alitura Clay Mask
A detoxifying clay that produces porcelain-smooth skin with a radiant glow. Contains a blend of nine nutrient-dense ingredients.
Key ingredients
Freshwater Pearl Powder, Grass-fed Colostrum, Rhassoul Clay.
Key Benefits
Detoxify, purify and hydrate your skin for a more youthful appearance.
Proof
"My face feels tighter and the wrinkle lines on my neck have been plumped out magically."

Alex Verified Buyer
The Alitura Moisturizer
The Alitura Moisturizer is a restorative and revitalizing daily moisturizer that goes on light while offering deep nourishment.
Key ingredients
Raw Organic Wilelaiki (Christmas Berry) Honey, Organic Bee Propolis Extract, Organic German Blue Chamomile Essential Oil.
Key Benefits
Refresh, rejuvenate, and protect your skin.
Proof
"It's been about a month or so and my skin looks soo much better."

Sarah H. Verified Buyer
Customer Reviews
Write a Review
Ask a Question
07/24/2021
Casey S.

United States
Best thing I could have done for my skin!
I'm 27 and I've tried everything under the sun to get rid of my blackheads and break out. I've been using the mask and moisturizer every day for a whole week and there is such a difference in my complexion. I love that it's all natural and I truly know it is taking care of my skin! I have pictures of before and afters if you would like to use them. Love the products and I'll definitely get more.
04/23/2021
Lori S.

US
Happy with Products
I have been using Alitura lotions for about 6 months and am very happy with my results and the satisfaction of knowing I am putting natural products on my skin.
04/17/2021
LINDSEY W.

US
Wonderful products!
I've used several but hands down favorite is the clay mask. It leaves my skin feeling like I just paid $100 for a facial. I mix my mask with ACV and 2 drops of orange essential oil. I am 34 but have a 14YO-going-through-puberty kind of breakouts. I'm red and patchy and super oily. This mask leaves my skin feeling clean, fresh and radiant! I'm on my second order!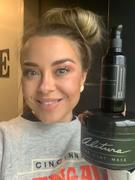 03/31/2021
Anonymous

US
Completely changed my skin
After years of cystic acne, bad skin, and scarring I assumed I'd never have "good skin". I have tried clean products, prescriptions and diet changes without consistent results. I switched all of my skincare to only Alitura products. Within a month I wasn't getting cystic acne anymore. By month 3, my scars were fading and my skin was brighter. I cannot recommend alitura enough! Try it, you won't be disappointed!
03/24/2021
Chassie B.

US
The best
These products are the best I have ever used. The ingredients are so clean and the results are amazing. So far I have used the pearl cleanser, clay mask, gold serum, moisturizer, night cream and dermaroller. The best of the best hands down! Every product I have tried has been amazing!